Product Overview

Imaging Capabilities

Downloads
Next-generation imaging
Based on our innovative Lyric Architecture, the Voluson Expert 22 enables you to set new standards in image quality for years to come: In 2D as well as in 3D/4D and even under difficult scanning conditions.
Early detection
Voluson Expert 22 is specifically designed for in-depth assessment of complicated anatomy. Pioneering first trimester, fetal cardiac, gynecological and other pivotal technologies focus on early detection and intervention.
Workflow efficiency
Equipped with a new generation of AI-based automation tools, Voluson Expert 22 helps to increase efficiency and accuracy in your daily diagnoses.

Comprehensive support
Leverage the entire Voluson ecosystem: Benefit from remote support from our technical and clinical experts, efficient data management solutions, training resources and much more.
Built for trailblazers like you
Women's health is your life and your legacy. Your focus is now, but you're already envisioning what's next – finding answers to complex questions that have yet to be asked. That's why we created the Voluson Expert 22. For pioneers. For groundbreakers. Because like you, we don't just hope for a healthier future for women. We insist on creating it.
Innovative Lyric Architecture
How can we make our best ultrasound even better? By developing a more powerful engine with the most advanced and adaptable features yet. Our Lyric Architecture allows for more data, resulting in higher spatial and contrast resolution and color sensitivity. It works in harmony with our specialized probe technology to extract more information at record speed. So you can deliver sharper and clearer images faster.
Maximize efficiency with ergonomic design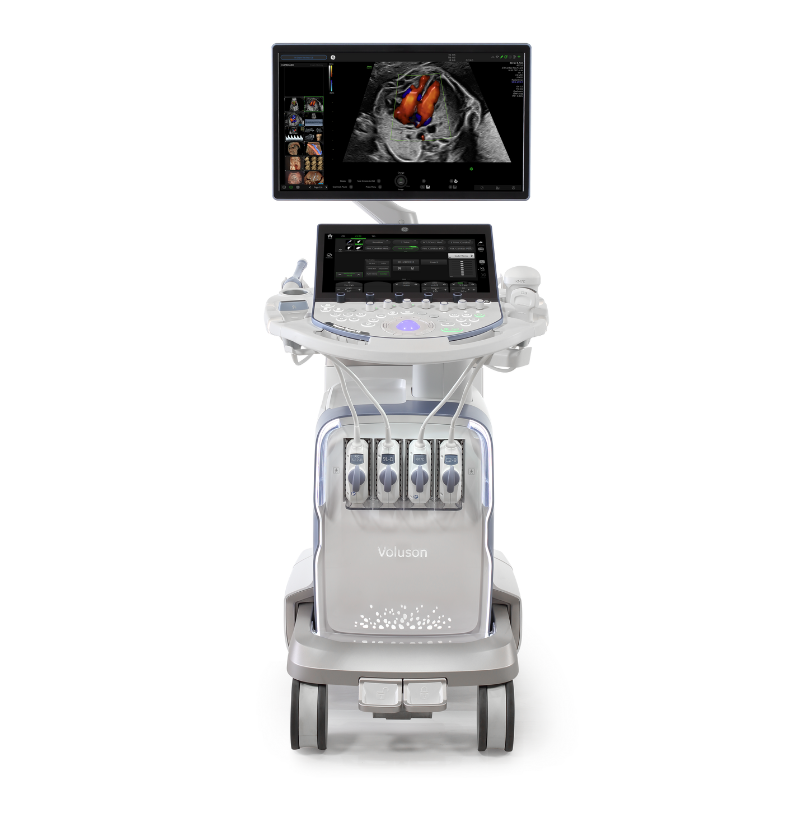 Cutting-edge HDU monitor
Work comfortably and see finer details effortlessly with the 23.8" high-definition ultrasound (HDU) monitor, that offers three image sizes, including the unique full screen imaging.
AI-based automation features
AI-based automation features
Voluson Expert 22 comes with a wide range of intelligent automation features such as SonoLyst, SonoPelvicFloor or SonoBiometry that help you to enhance efficiency, measurement accuracy and reproducibility of your ultrasound exams.
Intuitive and customizable interface
Intuitive and customizable interface
The user interface of Voluson Expert 22 is designed for simple and seamless operation. To optimize your workflow even further, you can configure hard keys and touch panel interface according to your personal preferences.
Auto probe activation
Work smarter with our new Respond feature: This workflow enhancer uses probe activation sensors to automatically initialize probes and presets when removed from the probe holder.
Fast and secure data management
Fast and secure data management
Use the Voluson Expert 22's state-of-the-art communication technologies to quickly exchange data with patients and colleagues and to archive your images easily. The integrated barcode scanner allows you to transfer patient information quickly and easily.
Discover detailed information about the
Voluson Expert 22 ultrasound system and learn how it will help you to deliver confident care efficiently.
Ultrasound for today and tomorrow
The Voluson Expert 22's powerful, adaptive Lyric Architecture in conjunction with GE HealthCare's unique probe technology will show you more than you ever thought possible. Get the answers you and your patients seek, provide life-changing diagnoses and shape the future of women's health.
Future-proof your practice and continuously unlock new imaging and processing features to obtain detailed, high-resolution images – even under challenging scanning conditions. The adaptive nature of the Lyric Architecture enables new imaging standards for years to come.

The Voluson Expert 22 is a masterpiece of engineering with the best 2D image from thin to difficult scanning patients.
This machine also has the best ergonomy and is the most customizable system ever produced. It is the best ultrasound machine I have ever used.
Prof. Rabih Chaoui Center of Prenatal Diagnosis and Human Genetics; Berlin

I have the impression that I can do my diagnosis much faster, more detailed, and I get better images. A lot better images. Therefore, I can see anomalies or have the impression that I don't miss anything I might have missed some years ago.
Dr. Tilman Esser Center for Prenatal Diagnostics; Munich
Next level 2D and 3D/4D imaging
The Voluson Expert 22 enables you to discover the answers you seek. In 2D imaging, utilize Radiant for more definition, UltraHD to see super fine details, and Augment to boost penetration. When it comes to 3D/4D imaging, our new HDlive™ Studio+ has your back in achieving world class images.
Doppler imaging
Voluson is pushing imaging boundaries to make blood flow assessment faster and easier. Our advanced technologies, including Radiantflow™, Slowflow and Radiant imaging, increase resolution and sensitivity in color and pulsed wave Doppler for unprecedented clarity.
Detect the undetectable
With Voluson Expert 22, you can uncover critical answers sooner, discover key insights and simplify complex cases. Speed up assessment, detection and diagnosis in your first trimester and fetal cardiac exams and in your pelvic health treatments.

One feature that I absolutely love and cannot do without any more in my practice is Flow Profiles. It allows us to streamline the acquisition of very high-quality Doppler profiles from the different vascular and cardiac structures, making the image optimization very quick.
Dr. Elena Sinkovskaya Eastern Virginia Medical School; Virginia

By using AI, we are pushing limits and enhancing diagnostic capabilities. At the same time, functionally making exams easier. The AI built into this machine is so far advanced compared to what we've seen before, and it's only a hint. It's our responsibility to push it even further by using it, by challenging it, and showing it makes a difference.
Dr. Lawrence Platt, Center for Fetal Medicine and Women's Ultrasound; Los Angeles

I would say the image quality on the Voluson Expert 22 is superior. My favorite probe is the eM6C. I can do most examinations with it because it offers me many technical opportunities. I can move from Bi-Plane to Real-Time 4D to eSTIC. I can make all the diagnosis very clear and fast with very good quality. For me, it's a perfect system and probe.
Dr. Kai Heling Center of Prenatal Diagnosis and Human Genetics; Berlin
Achieve the unachievable
Leverage groundbreaking tools, including artificial intelligence and automation, to take the efficiency of everyday imaging to a new level – so you can keep pushing what is possible.
Voluson probe technology for extraordinary ultrasound images
Extraordinary image quality begins with advanced probe technology. Based on feedback from physicians and sonographers, Voluson probes have evolved to help meet your ergonomic needs and include innovations and advanced technology for women's healthcare applications.
Dive into the world of Voluson Expert 22
In this section you will find valuable and detailed information on Voluson Expert 22 and its features. Choose from brochures, whitepapers and case studies that offer you detailed insights into the functioning and application areas of our ultrasound system.
Discover detailed information about the Voluson Expert 22 ultrasound system and learn how it will help you to deliver confident care efficiently.